Some directories do not issue email addresses in their results,
It is advisable to try RJ-Capture before purchasing to verify the presence of the desired fields.
Presentation
RJ-Capture is a shareware for capturing yellow pages, capturing pro pages, capturing gold pages, capturing yellow pages (directories), capturing yellow pages and capturing yellow pages of the USA for professional contact data to be used for commercial operations, marketing, job search ...
Its WYSIWYG user interface makes it possible to visually compose the desired result. It is an "intuitive" interface: the user sees directly on the screen what the final result will look like.
1. Enter your search parameters
1. DIRECTORY
Click Directory


Select your directory from the list
Several countries are available


Click on the directory you need

The web address of the directory appears clearly
The integrated browser opens RJCapture site directory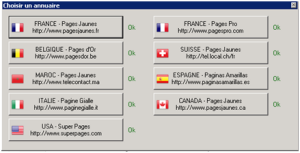 2. LOCATION
Select cities, departements, regions for your search
Click on Location

Choose for:

CITY
POSTAL CODE
DEPARTEMENT
REGION or STATE

Enter one or more (separated by semicolons) directly
Choose from the list by the corresponding « Add » button
Select by checking the appropriate box or by using keyboard keys :

Shift for several following
Ctrl several not followed
Remove
To delete multiple locations at once, use the Ctrl or Shift key to select multiple items and click the « Delete Selected » button.
You can remove all by the « Delete all » button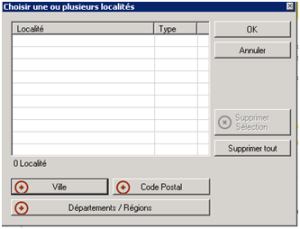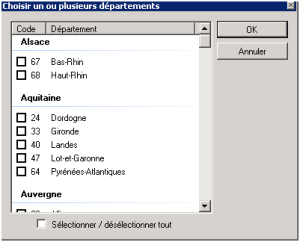 3. ACTIVITIES
Click on Activities
Enter one or more (separated by semicolons)
Choose on the activity guide by the « Add » button

Check the boxes corresponding to the selected activities
To select all activities starting for example with the letter G, type G in the list and click on the title G.
To select all G , click a checkbox..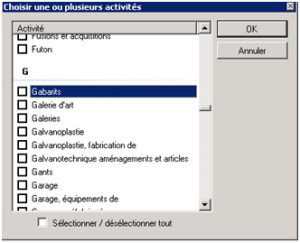 2. Capture
Vacuum the information for you and build a relevant database
START/STOP

CHOICE information to capture
MISSING EMAILS



RJCapture can explore the websites of prospects to recover missing mail address
The duration of exploration of a site can be configured to limit the depth of research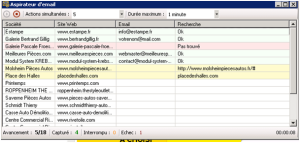 3. Save
The new version keeps the selected criteria and the data retrieved by the name of a project
You can use back a saved project, modify it and then continue the retrieval.
The project can be saved at any time: at the beginning before choosing the extraction criterias, at the middle or the end.
+ Clear Base
During the restarting, if you wish to continue with an empty database, you can delete the records already extracted by clicking on the red cross..
+ Reset the locality of the early research
To restart capturing from a location other than at the last stop, you have to click with the right mouse button for "reset"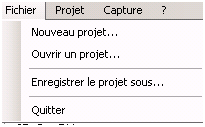 4. Export
Select the data that really interest you and get the best export file
Visualize the desired fields

Click the "Fields" button in the lower right
Choose columns

Filter records

Click the

« Filter »  

button

Choose filters

Export the data captured in the format of your choice

Xls format (Excel)
Txt or csv format